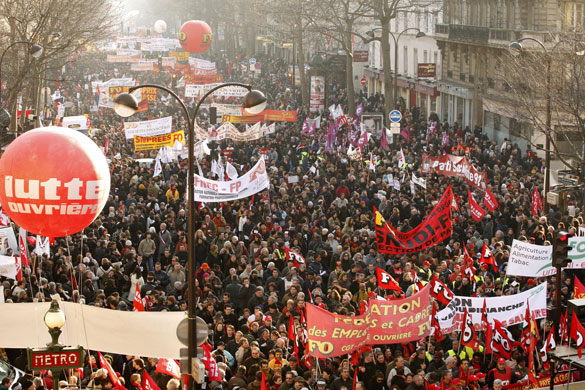 The French sure do. There are massive strikes sweeping across France this week to protest the flagging economy, job cuts and falling wages.
The head of France's biggest union said a million workers had rallied to demand action to protect jobs and wages.
Overall, some 23% of the country's public sector workers are thought to have joined the action, which was called by eight major French unions.
America used to have unions that looked out for the workers. Not so much anymore... It's funny, the French workers are angered by the same things we are here in America.
Many people are furious that Mr Sarkozy said there was

no money left to raise wages and consumer spending power, but nonetheless managed to find billions of euros to bail out floundering French banks

, says the BBC's Emma-Jane Kirby in Paris.
Money for rich bankers, nothing for the working people. Sounds familiar. But what are American unions doing? Not much... They're
taking the blame
for job losses at Boeing. That's about it.